I've been really a fan of Michelle of
Daisy Butter
since well, forever really. Michelle is one of my favorite bloggers because she is so darn relatable - her geek outs are like my geek outs, not to mention one of the first style blogs I discovered ever back in the ancient era of 2010 and it's kind of inspiring and awesome to see how much she's grown in the industry. When I noticed that she was collaborating with
New Look
for a chance to win a massive holiday wardrobe, I pretty much did a happy dance. I'm going to admit that I had never even heard of
New Look
before I did this - but I'm so glad I did! It's definitely a treasure trove of amazing steals so get ready for a long post :)
The challenge? To go through New Look's gloriously affordable range and pick out five outfits for the perfect holiday (Travel, Poolside, Beach to Club, Sunset Supper, Beach It) :) Of course a chance like this equaled the perfect chance to break out my pencils and do a little illustrating.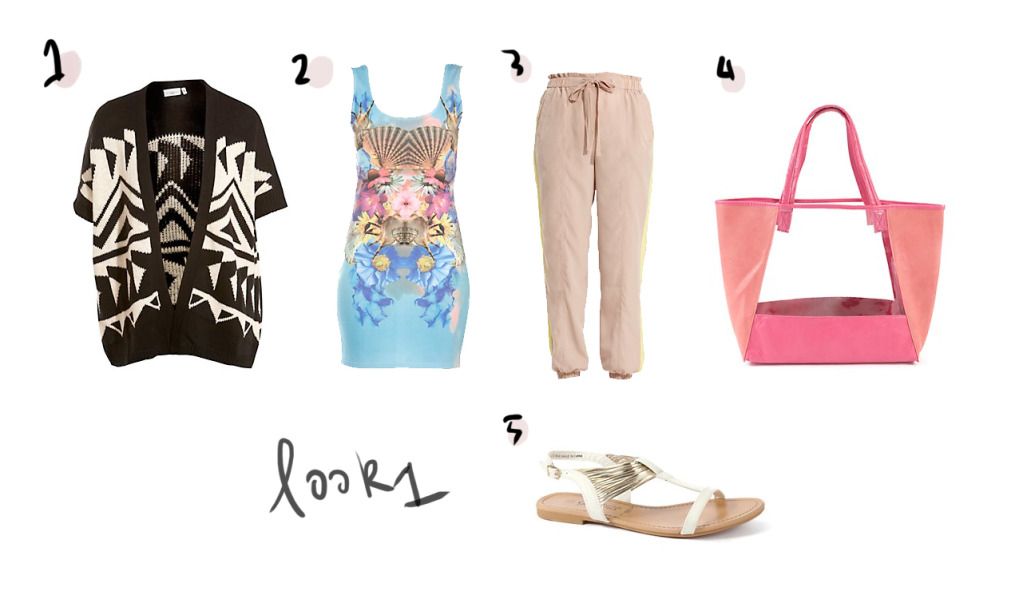 So let's talk travel gear. Heading on a plane for me means wearing clothes that don't crinkle - no cute pleats, neatly pressed pants...nada and lots of sitting means that jeans are really not a fun option. As a seasoned plane flyer, the longer the flight, the colder it will be up in the sky. Take measures to keep snug until you hit the landing strip and then everything can come off. Well, not quite everything if you don't to get deported. I picked this fun screenprinted body con - the fabric definitely won't wrinkle and it's enough of a statement piece to look put together enough when you land and the layers come off. A slouchy cardigan, one in my absolute favorite summer print (aztec) will be super cozy and fairly light weight and a pair of neutral harem pants to throw over the bodycon temporarily on board will keep your legs nice and warm. I've been a bit iffy about the clear cut-outs in bags for a while until I saw this color-blocked number and had a brain wave: that clear cut out means you can see everything in your bag. No more searching around for your passport in front of the unsmiling security with the giant dog anymore! HUZZAH!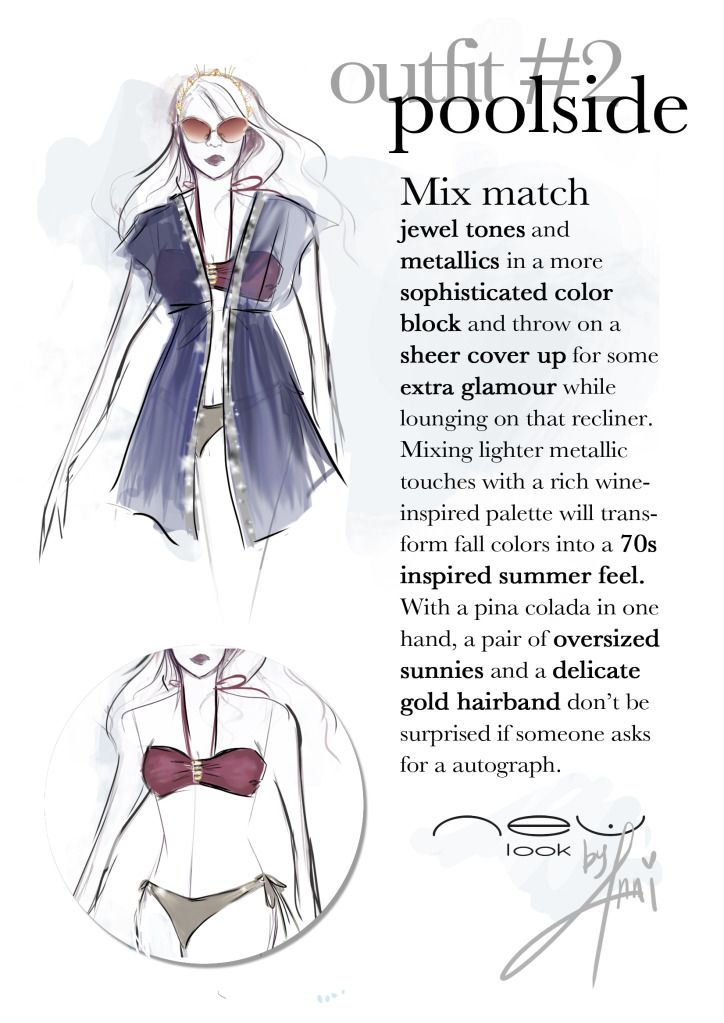 Let's be honest - fancy hotel pools are not really for swimming in. The purpose of a nice turquoise sparkling pool out in the sun is so that you can flaunt that bikini like a screen siren with your giant sunnies and pretend that just for today, you are that VIP girl. I've always liked metallics when it comes to swimwear but to avoid looking too much like girl-washing-car-sexily-in-rap-music-video/Vanilla Ice's scary looking wife, mix/match a silver piece with a darker hue. I went with a wine palette for this look thinking of a jet-setting 70s vibe so I threw this amazing purple cover up on top (aren't you loving that glitter hemed edge?) and topped off with compulsory wannabe-celeb sunglasses and a fun little gold headband since we all know we aren't really going to be touching that water.
Less is more when it comes to club wear, but a little more is necessary to get into places that don't advertise mud-wrestling girls and under-wear-free ladies nights. Don't have time to get fully primped up after a day out in the sun? Just pop this beautiful baroque print dress over your bikini - the cut outs add just enough sexy hints and the length will really emphasize those tanned legs. If you're one of those girls who can't go anywhere without a good necklace, if you don't have one on hand create a body-harness look by cross tying that bikini halter across your neck for added interest. Throw on a pair of heels in a electric blue to add a little color and clutch with a body chain is a must so you don't end up being that girl waving her hands and her purse in the air like she just don't care...until all her stuff falls out.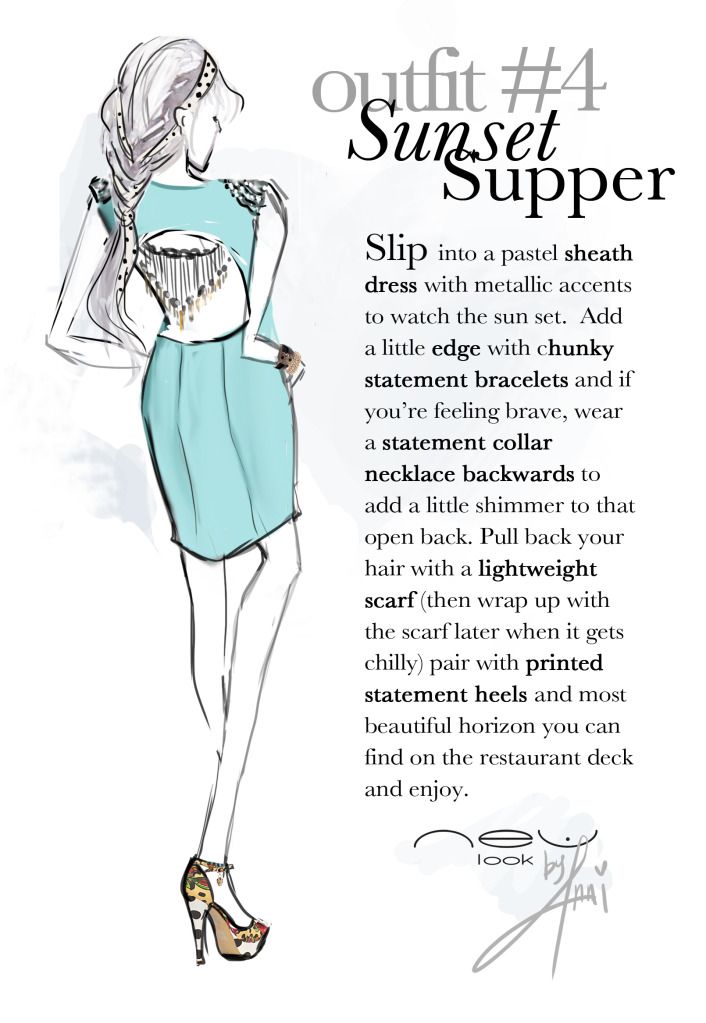 Whenever I go anywhere - I like to get properly dressed up atleast once and what better time to break those crazy statement heels than a sunset supper? Sheath dresses have always been a personal favorite of mine but they do verge on being a little formal so when I saw this gorgeous turquoise number with the metallic epaulettes on the shoulders my mouth dropped open. To play up the fun qualities, stack up some chunky statement bracelets and instead of going for that high bun, try braiding a light scarf in with your hair to add a little interest. If you're feeling extra experimental, try wearing a statement necklace
backwards
, yes you heard me, backwards. With a open back, the necklace will look like a chain decoration in the middle and up the glamor factor by about a bazillion times.
1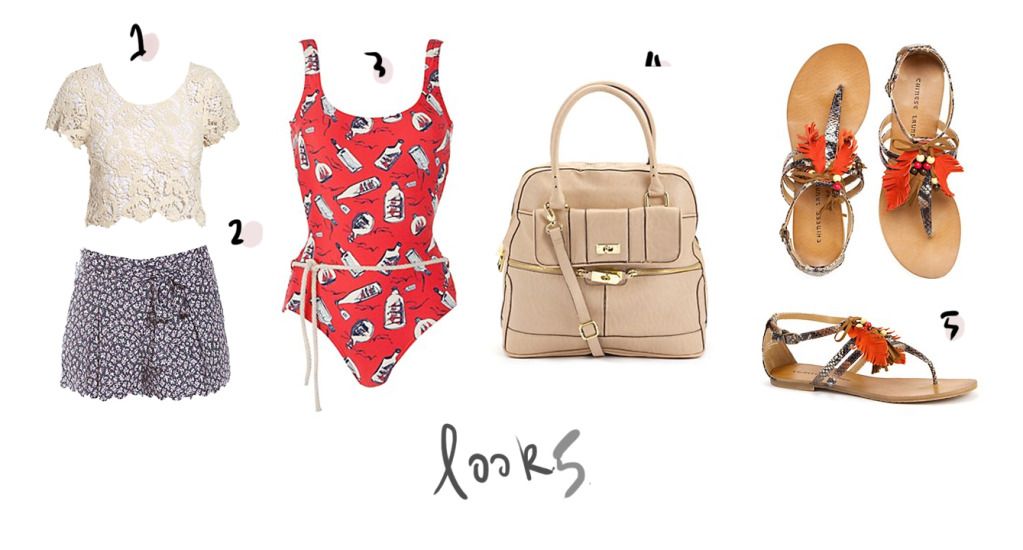 I'm going to admit that I do possibly just as little swimming on a beach as I do by a hotel pool. The difference is that I do a lot of other things on a beach, like making sandcastles even though I'm too old for that and squelching my toes in wet sand and badly playing beach volleyball and splashing cute people and
skinny dipping at night
which is why I sometimes I opt for the classic one-piece. One pieces don't have to be boring and safe - this bright red bottle print one has just the right touch of pop-art kitsch and it comes with a rope belt which is a really cute touch. For time out of the water, pop a lace crop top on so that the red will peek through and just pull on a high waisted skort if you need to walk down the road without being honked about a dozen times. Yes, I know denim is classic for summer but remember how darn uncomfortable denim is when it's wet and how it starts to rub your skin raw - go with a something in light weight like cotton where it will dry itself out in no time. A classic bag adds a unexpected twist to the whole look but to avoid looking too dressed up, I went for these festival-esque Chinese Laundry sandals that I completely want to own myself.
So there you have it! 5 killer looks courtesy of New Look! As part of the judging is on how much social media the entries generate I would really, really appreciate it if you left a comment showing your support with a link back to your blog so I can pop my and visit!
I WILL BE DOING A GIVEAWAY IF I WIN THIS SO.....
feel free to lend a hand on these platforms too:
retweet @ Twitter
+1 @ Rivista De Moda
x
Anni