For those on the southern hemisphere - HUZZAH FRIDAY! For those who are still stuck on Thursday - stick it out guys, only one day to go. I was flicking through some blogs via links on posts and I came across one blog, although not my cup of tea had a really awesome idea, which was a list of things they were personally grateful for over a week and it's inspired me to adopt this idea for myself. I'm a pretty determined and ambitious person which means that I'm always thinking about how I will make myself better all round so it's definitely a awesome feeling to take a break out of a day to reflect on how while getting somewhere better will be awesome, I am incredibly lucky to have all the things currently going in my life for me. While I share a big part of me on this blog, I'm not quite ready to share all of me, so instead I will be grateful for all the things that have happened for me personally this week and share the ones that involve you wonderfully supportive people. :)
1) The New Look comp. Not only did this bring me out of a bit of a art rut, but I also like the pieces I have created enough to use them as a portfolio piece which is a double win! I hate to whore out that post like crazy, but if you haven't checked it out already, take a look
here
and I would be infinitely grateful. If you have checked out the post and are keen to take part (it is a international comp so go for it!) just click on that nice yellow advert for it below!
2) Rivista Di Moda is a brand spanking new fashion/art community - similar to IFB but with a wider range of subjects that are covered. They are compiling monthly issues to share their favorite picks of submitted content and I was lucky enough to be featured as a their "Talent To Watch" for August as well as well as two outfit post features (one in the dot trend, and one in their Haute Looks for the month). Unfortunately we couldn't co-ordinate a time to have a proper interview for the mag in time for the release date so the information on the article is mostly cut/paste from my blog which is unfortunate because some parts don't flow very well as one article + slight resizing issues most apparent on the last page but I'm very grateful for being featured anyway. It means a lot as a student artist and super n00b blogger to be featured in anything really, let alone a official monthly feature :) I am sure that as with all things, RDM will get better and better over time :)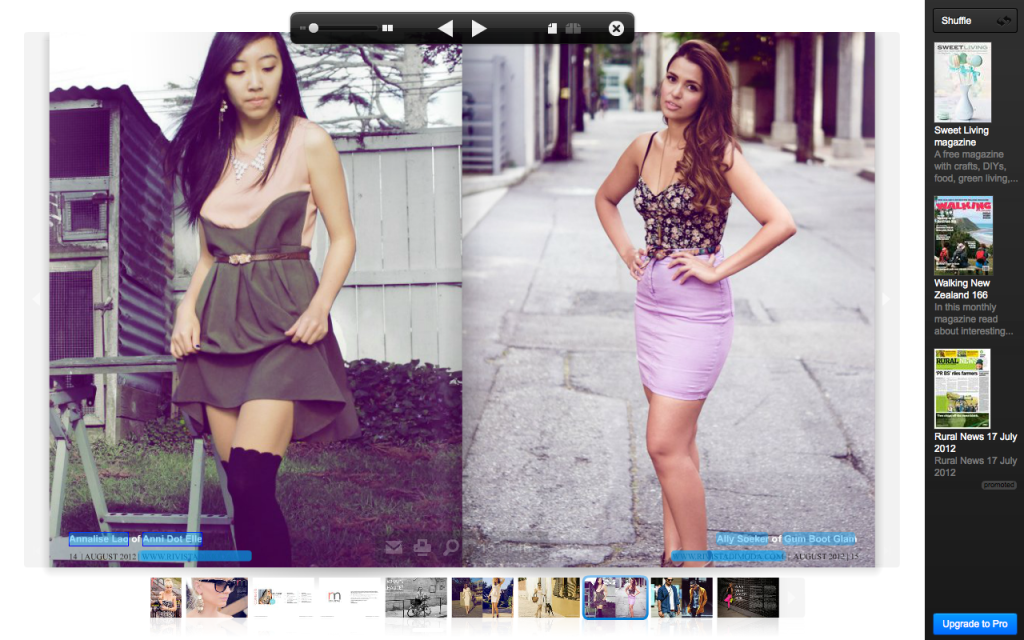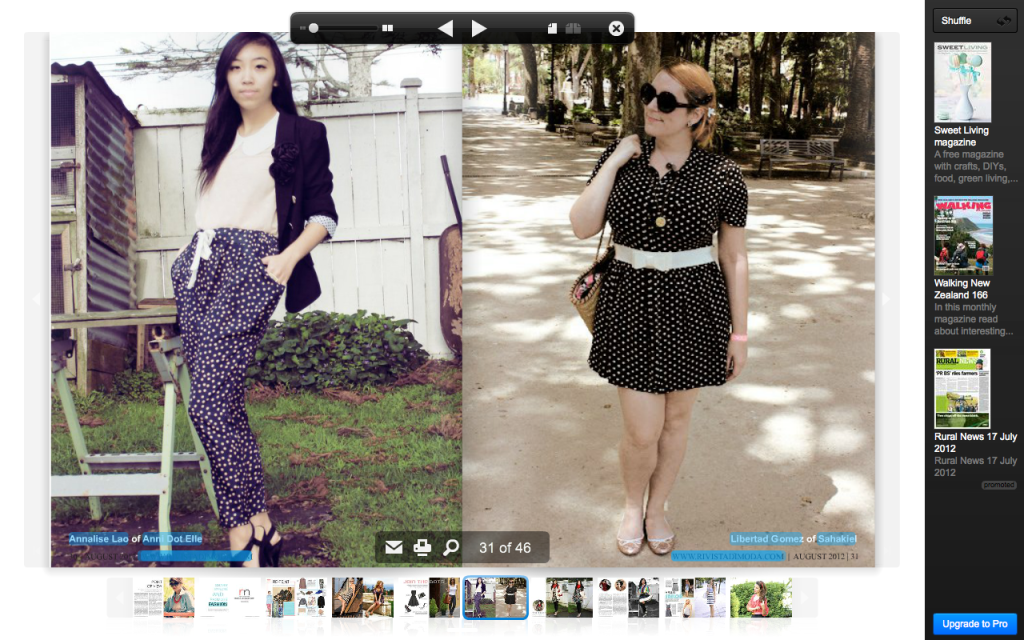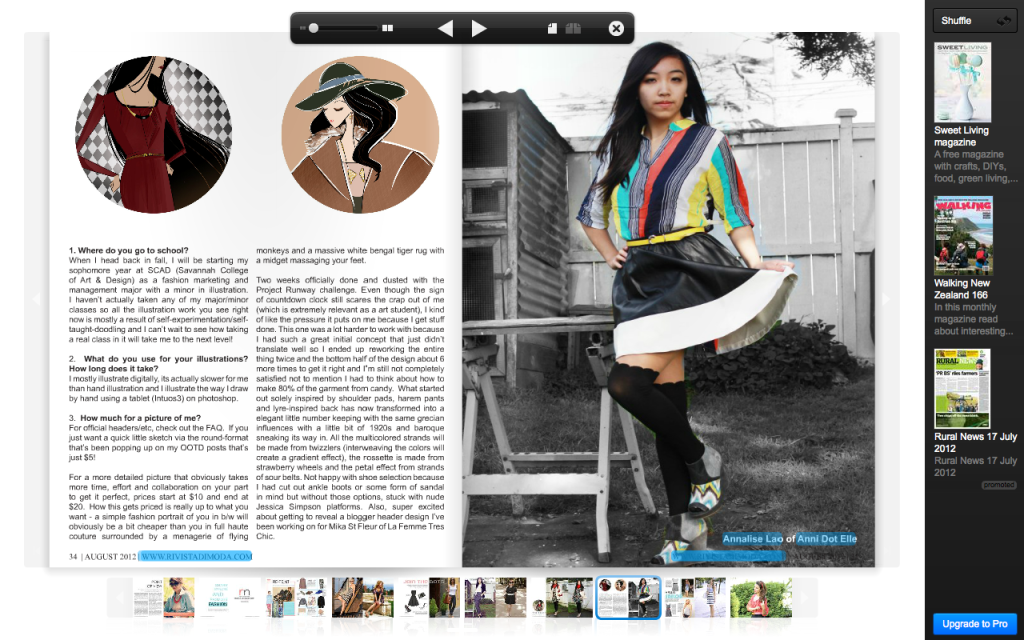 3) Time to sound exactly like the materialistic blogger I am - infinitely grateful for the Supre Sale that hit Auckland this week. I usually don't buy things from Supre because most of the pieces are overpriced for the quality (especially regarding statement pieces) and their collection of sexier clubbing pieces are often made of fabric that wrinkles or looks much cheaper than it's actual price. But this week after getting paid I had a bit of a under $22.40 spree where I picked up a red plaid bodycon, a pair of electric blue glittery hot pants, gold skinny jeans and a gorgeous lilac knit all in one haul which I will be doing a haul post on over the weekend :)
4) You guys! I appreciate every comment I receive and I love hearing your thoughts and stories. A few posts back before just before I hit 100 (officially documented) readers as a big thank you for supporting me so far I promised 5 custom sketches for 5 sincerely awesome people who have been part of this incredibly miniscule (1.5 month) journey so far!
(Please do not stone me, I know I'm not the best at capturing the essence of a person but I am trying. XD)
from top to bottom, left to right
No. 100! = Julie from
Surreptitious-Lies
:
15 years old with crazy, crazy style. The sketch of her above is one of my all-time favorites of her style combining a kind of witchy gothic goes steampunk vibe via body harness and glasses of awesome. Also, as proof she has truly rad taste she paired the outfit with leggings I also eyed up at Glassons :P
Aisling from
Aishee and her mind:
Mad thanks for being one of the first ever people to officially put your name down as a reader on my blog! Since that time, I think her blog is now defunct or atleast on hiatus (which is sad) but feel free to flick over it and marvel at her awesome inspired vintage looks.
Leaves great comments and runs a lifestyle blog that currently has a super hilarious + cute vid of her putting make up on her bf blindfolded (you know a guy loves you when he lets you do that, and that he has a awesome sense of humor and is a complete sweetheart)
Has spectacular style (this is of her fall outfit that I'm completely coveting) and the sole reason I completely need a pair of tartan pants for a/w 2012 because hers kind of stole my soul. She is also has the best smile which looks awesome in photos.
Rocks sunnies + cute printed dressses like no other and has two insanely cute dogs and came up with the rad REMIX tag where she creates different looks with the same piece reminding us all that despite our bulging closets and that voice in our heads that say "I have nothing to wear!" we actually do.
Just a short note, as much as I appreciate comments, I don't do follows-for-follows. I did maybe five or so when I first started blogging but it just felt so unfulfilling to build up readership that way that I sincerely regret doing so. That said - leave your links, I love finding out how insanely hilarious, real and radically stylish all of you are and sometimes I fall in love with you guys and your blogs so much I end up following you anyway. :)
x
Anni