First up: 95 awesome people- are you kidding me? I read and appreciate every single one of your comments which always brightens my day and I never thought that within less than two months of seriously blogging that I'd be close to 100 followers! Everytime I think about it, I'm a little mindblown and utterly grateful that the blogging community is so supportive and welcoming of newbies like me. As a little thank you, follower No.100 will get a illustration of their choice from me and for everyone else who's followed, read and go through my posts, I will be using a random number generator to choose four other followers who will also get a special little illustration piece each from me. Some of you guys have left questions about how I work and prices, so I thought I'd do a quick little FAQ on me as a artist right here.
1. Where do you go to school?
When I head back in fall, I will be starting my sophomore year at SCAD (Savannah College of Art & Design) as a fashion marketing and management major with a minor in illustration. I haven't actually taken any of my major/minor classes so all the illustration work you see right now is mostly a result of self-experimentation/self-taught-doodling and I can't wait to see how taking a real class in it will take me to the next level!
2. What do you use for your illustrations? How long does it take?
I mostly illustrate digitally, its actually slower for me than hand illustration and I illustrate the way I draw by hand using a tablet (Intuos3) on photoshop.
3. How much for a picture of me?
For official headers/etc, check out the FAQ. If you just want a quick little sketch via the round-format that's been popping up on my OOTD posts that's just $5!
For a more detailed picture that obviously takes more time, effort and collaboration on your part to get it perfect, prices start at $10 and end at $20. How this gets priced is really up to what you want - a simple fashion portrait of you in b/w will obviously be a bit cheaper than you in full haute couture surrounded by a menagerie of flying monkeys and a massive white bengal tiger rug with a midget massaging your feet. :)
Two weeks officially done and dusted with the Project Runway challenge. Even though the sign of countdown clock still scares the crap out of me (which is extremely relevant as a art student), I kind of like the pressure it puts on me because I get stuff done. This one was a lot harder to work with because I had such a great initial concept that just didn't translate well so I ended up reworking the entire thing twice and the bottom half of the design about 6 more times to get it right and I'm still not completely satisfied not to mention I had to think about how to make 80% of the garment from candy. What started out solely inspired by shoulder pads, harem pants and lyre-inspired back has now transformed into a elegant little number keeping with the same grecian influences with a little bit of 1920s and baroque sneaking its way in. All the multicolored strands will be made from twizzlers (interweaving the colors will create a gradient effect), the rossette is made from strawberry wheels and the petal effect from strands of sour belts. Not happy with shoe selection because I had cut out ankle boots or some form of sandal in mind but without those options, stuck with nude Jessica Simpson platforms. Also, super excited about getting to reveal a blogger header design I've been working on for Mika St Fleur of
La Femme Tres Chic
.
This was the initial concept before I scrapped it and restarted over. Those massively padded sleeves were originally going to be made out of caramel popcorn. I still love the idea though, and I can promise you that silhouette will be coming back before this series is over.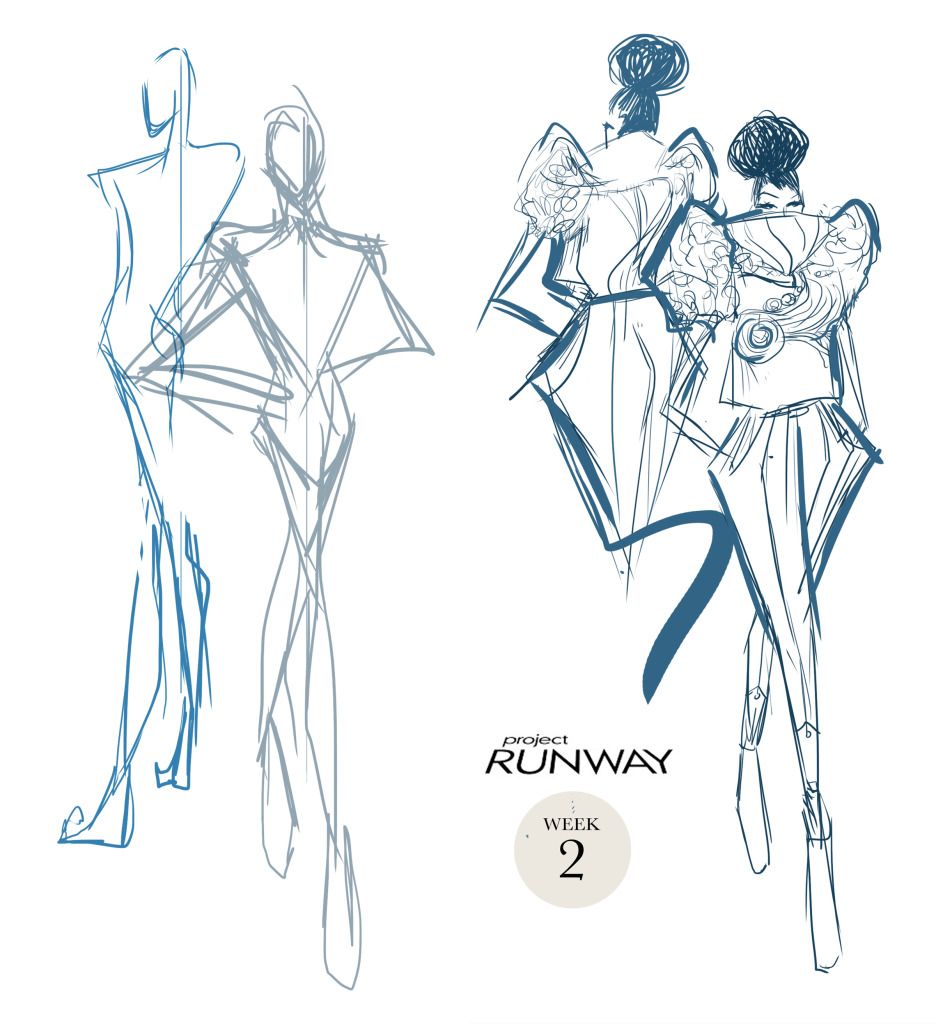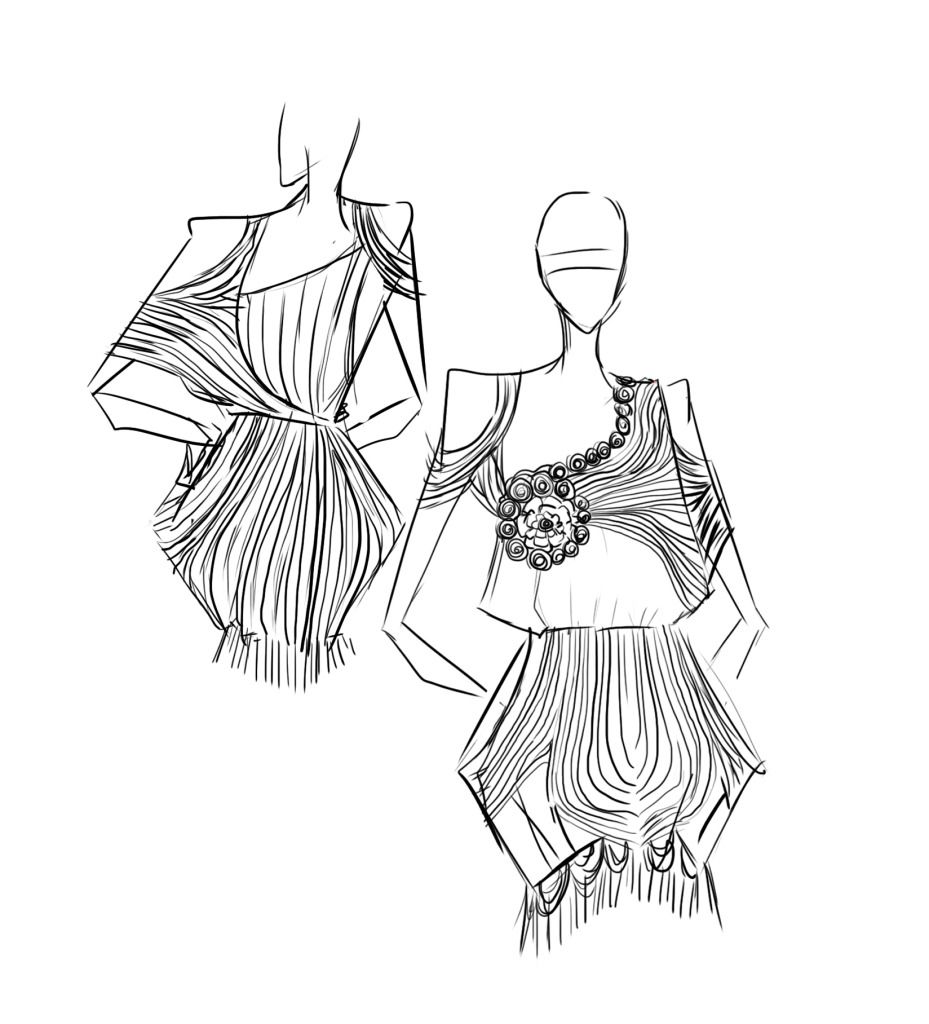 x
Anni