Isn't it crazy how time flies? It only feels like yesterday was the lazy days of January muddling through summer heat to get to that very first plane ride that would take me to the US in March and now it's almost come full circle. The thing about reflection is that everything seems a lot more clear when you look back on it in retrospect, but I guess things are always easier after you've gone through stuff. Memory strolling aside....I've been crazy excited to shoot this particular piece ever since I nabbed it at a Valleygirl 50% off sale last Thursday. I dipped my foot into the peplum trend in winter with a lovely green skirt but I hadn't really found a top I liked because while I appreciate how gorgeous minimalist black peplums could be, I wanted mine with a little more jazz. When I saw the range of beautiful floral digital prints Valleygirl had on a series of peplum dresses, tops and perfect skorts I had no choice but to give in a buy both a dress and a top. Little overindulgent? Hell yeah - but when you see the print on this, you'll understand.
Thanks to my mom's amazing wardrobe, I'm fortunate enough to be the owner of a series of adorable matching suits with oversized blazers and perfectly tailored high waisted shorts but I have yet to buy a more casual summery set for myself. When I realised it was going to get chilly when I went out with my family for dinner, this became the perfect opportunity to create a suit set by matching pieces I already have. Went for denim on denim and a blazer to keep the suit aesthetic, but I picked more casual pieces (read: sister's borrowed blazer and super comfy BDG shorts that will withstand pigging out on sushi) to keep it young, fun and pretty casual.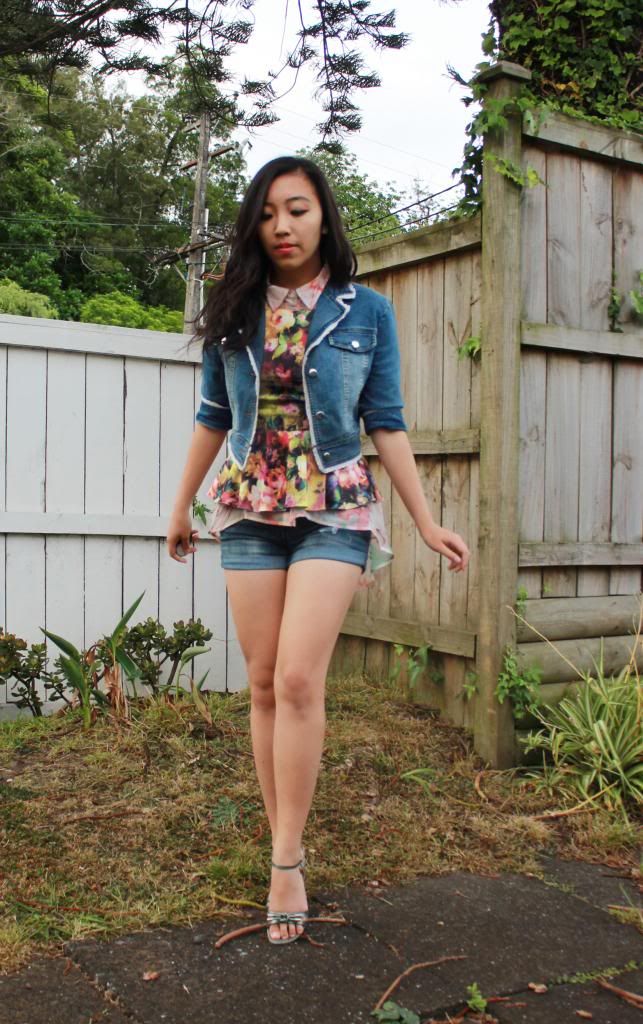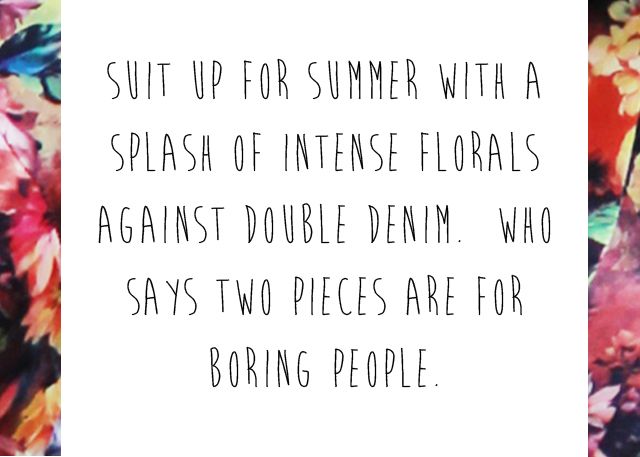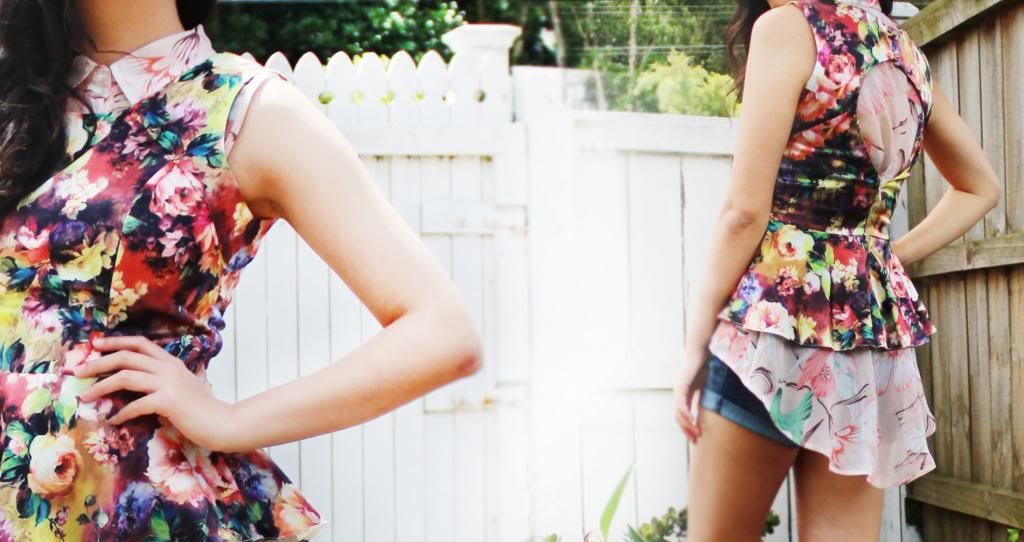 No suit set is complete without a collar, so first I layered a trusty peach floral high-low hem blouse under the peplum itself, creating a waterfall effect with the layered ruffles. Not only did the mix of florals really bring out the richness of the peplum, it was also my cheat for the back cut out of the peplum. I frantically scrambled through my knickers beforehand trying to find a bra that wouldn't peep through, realized I'd left it in my dorm room a million miles away, debated not wearing a bra before realizing the fabric wasn't quite sturdy enough and it was getting nippy (no pun intended)....and then figured out I could layer a really sheer blouse underneath without getting bulky. GENIUS.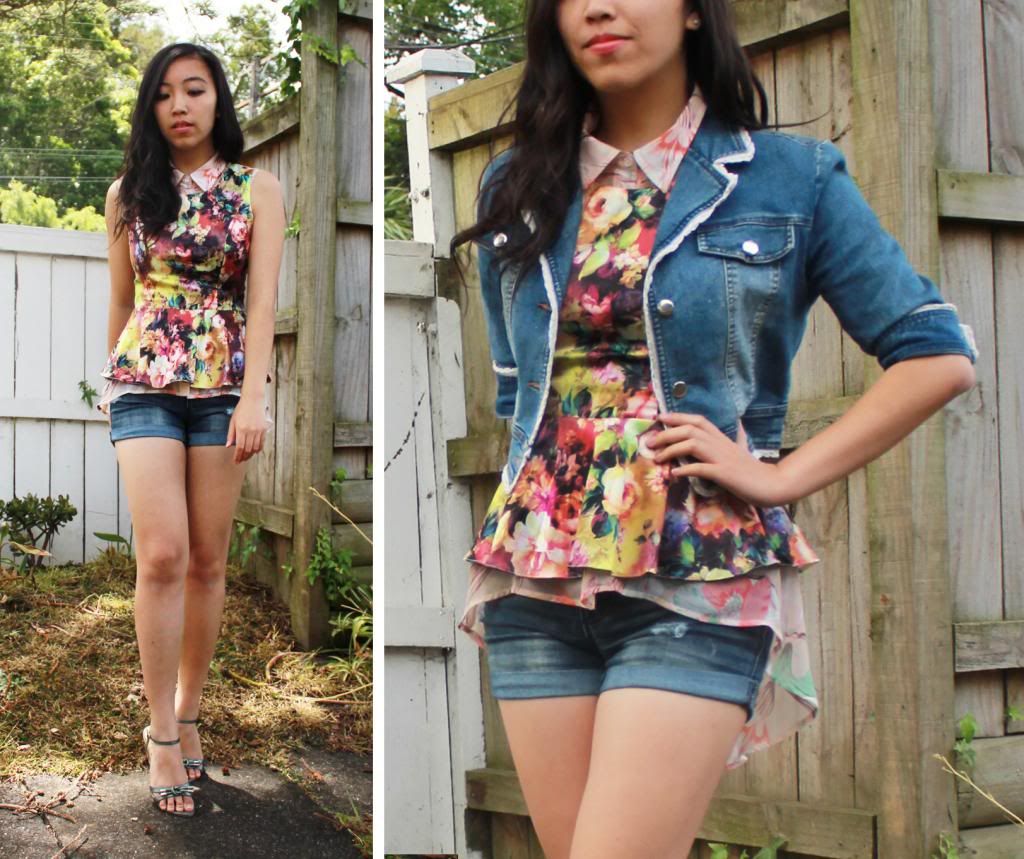 I don't usually wear thinner strapped shoes just because I have essentially, small fat feet which I get stupidly conscious about but for some reason, this pair just works and makes them look oddly graceful which is very, very new to me.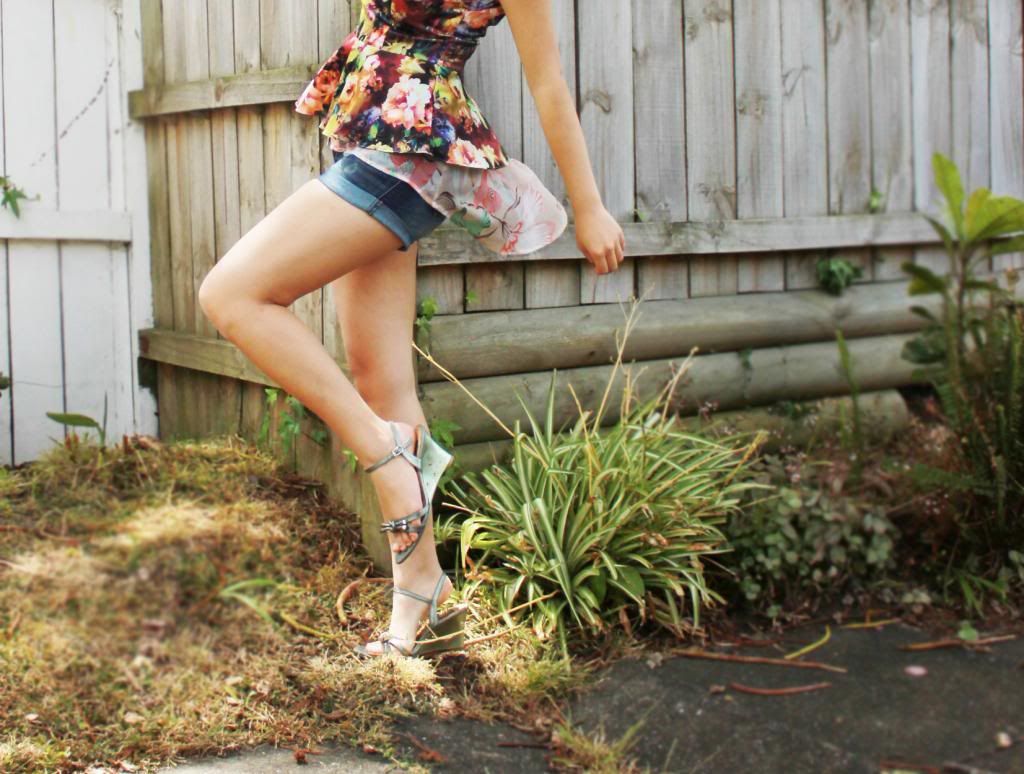 denim jacket - sister / peplum top - Chicabooti:ValleyGirl / floral blouse - Switch:Farmers
shorts - BDG: Urban Outfitters / green metallic wedges - Shanghai
In other news (apart from how much this almost suit rocks), super, duper excited to announce two secured giveaway coming straight at all you lovely, lovely people in about....hmmmm...two days!
x
Anni